The AHIMA22 Global Conference is right around the corner! Stop by the 3M booth (#135) to learn how you can advance your organization's journey to autonomous coding. Don't miss our tech demos and educational speaking sessions, featuring 3M and our clients.



Monday, Oct. 10, 11—11:45 a.m. ET
"The path to automation: Understanding the foundational needs and considerations to set you up for success on your direct to bill journey," featuring 3M HIS experts Arta Kelmendi-Doko, MD, PhD; Julie Salomon, BSN, RN; and Jean Stoner, CPC.
Tuesday, Oct. 11, 3:30—4: 15 p.m. ET
"How UC Davis is incorporating AI-powered technology to improve productivity," featuring Tami McMasters-Gomez, BS, CCS, CCS-P, CDIP, CCDS (MHL) and Temera Royston, MA, BA, RHIA, RHIT, CPC, UC Davis.
Wednesday, Oct. 12, 9—9:45 a.m. ET
"Unleashing technology in HIM for population health," featuring Cassi Birnbaum, MS, RHIA, FAHIMA, CPHQ, enterprise senior director HIM, coding and CDI, PeaceHealth.
3M technology demos
Monday, Oct. 10, 12:50—1:10 p.m. ET
3M™ 360 Encompass™ System's new feature, 3M code confidence, offers the next level of automation to give coders more time to focus on complex codes by fully automating confident ones.
Tuesday, Oct. 11, 10—10:20 a.m. ET
3M™ 360 Encompass™ Professional System delivers computer-assisted coding for the professional coding workflow in all places of service, bringing facility and professional coding together in a single tool.
Tuesday, Oct. 11, 12:50—1:10 p.m. ET
3M™ M*Modal CDI Engage One™ uses advanced AI to automatically embed clinical intelligence into normal physician and CDI workflows—helping to address documentation gaps at the point of care and significantly improve mid-revenue cycle efficiency.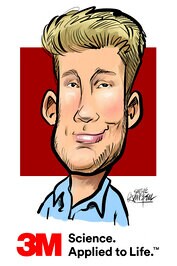 Visit the 3M booth (#135) for a custom caricature.